Dr. Manfred Bischoff Institute of Innovation Management of Airbus Group
Partners & Sponsors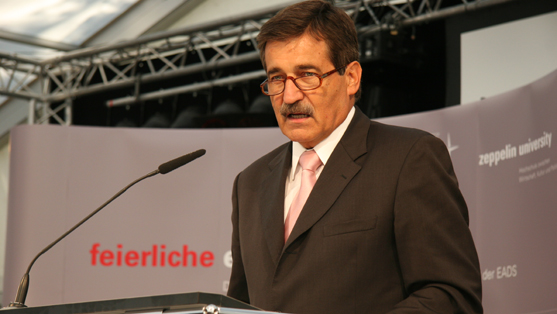 Dr. Manfred Bischoff on the Occasion of the Ceremonial Opening of the Institute

Personal Information: Dr. Manfred Bischoff

Dr. Manfred Bischoff is seen as the "architect of the Airbus Group" and as "an independent and honorable personality", as the Manager Magazin has written recently. Due to his work with the Daimler Benz AG, as well as the Airbus Group, he can be seen as one of the course-setting personalities in German economic history. He is married with two children.

Bischoff, born on April 22, 1942 in Calw, graduated in economics and then worked as a research fellow at the Alfred-Weber-Institute of Heidelberg University from 1968 through 1976. He was also awarded his doctorate there in 1973.
In 1976 Bischoff joined the Daimler Benz AG as a project coordinator. After several positions, e.g. in the area of mergers & acquisitions and as the managing director of Mercedes-Benz do Brasil, he was appointed Chief Financial Officer of the Deutsche Aerospace (DASA) in 1989. In 1995 Bischoff was appointed Chairman of the Board of Daimler-Benz Aerospace and a member of the board of Daimler-Benz AG.

Following the foundation of the Airbus Group in 2000, Bischoff took on the position of its chairman, which he held until 2007.


Seats on Supervisory Boards
Since 2006 he has been Chairman of the Supervisory Board of Daimler AG, and has held numerous additional seats on supervisory boards.