Lake Constance Innovation Cluster Digital Change (BIC)
Events in 2020
Unfortunately the ongoing developments surrounding the COVID-19 virus force us to temporarily carry out all events online. 
| 16th of April 2021     Innovation Circle Cybersecurity
7th of May 2021      Innovation Circle Artificial Intelligence
7th of May 2021      Innovation Circle Digital Sustainability Management
21st of May 2021    Innovation Circle Digital Leadership and Knowledge                                                       Management
Profile
The idea behind founding the Lake Constance Innovation Cluster Digital Change (BIC) is based on the fundamental conviction that the Lake Constance region, as one of the most innovative technology regions in Europe, has extensive explicit and implicit knowledge of the framework conditions, consequences and, above all, opportunities in the context of digital transformation in industry and society.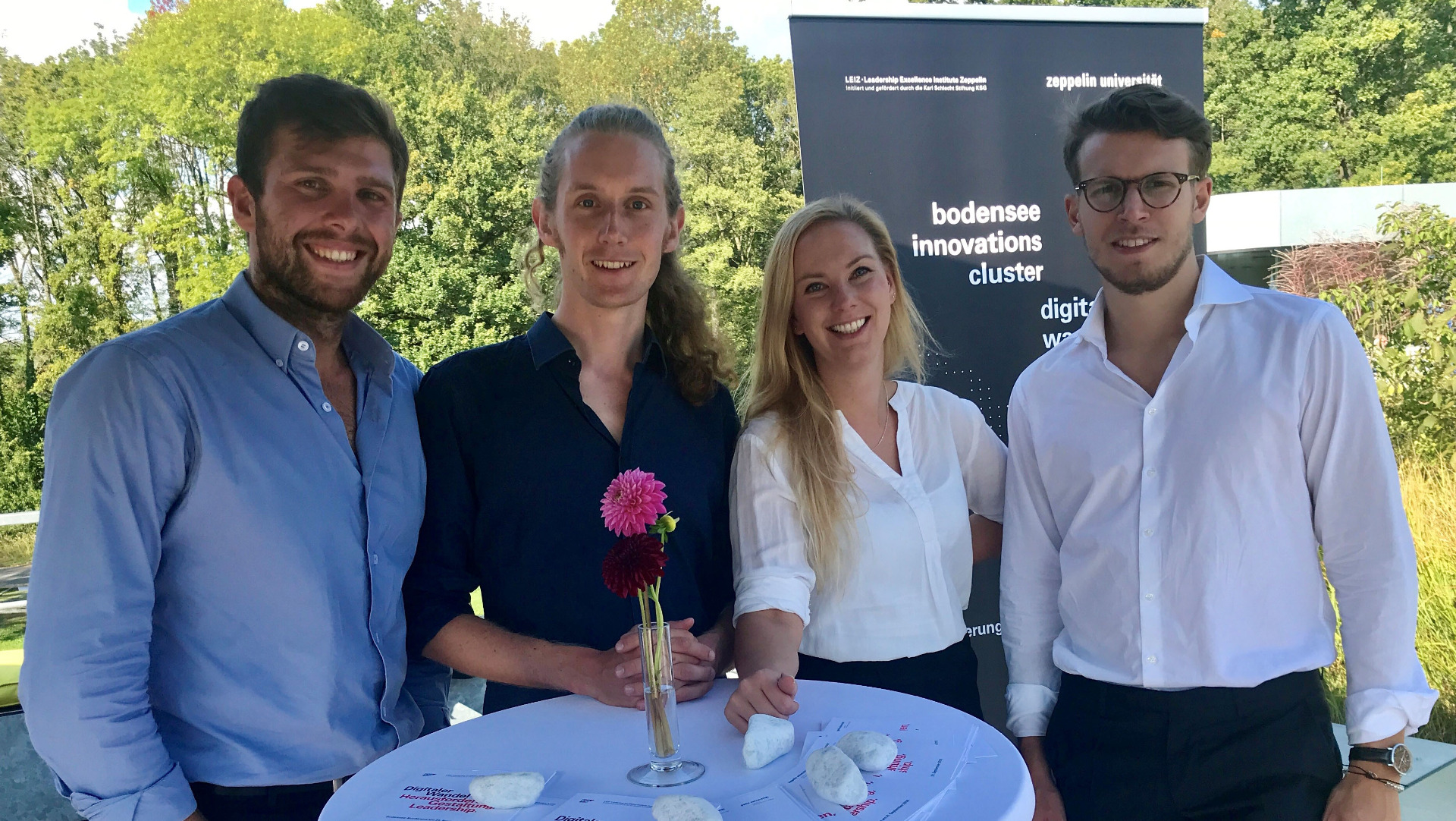 The innovation laboratory is headed by Sabine Wiesmüller (second from right). She gets supported by Lukas Törner (second from left), Alexander Shevelov (first from left) and Maximilian Heisterkamp (first from right).
Against this background, the Leadership Excellence Institute Zeppelin | LEIZ of Zeppelin University | ZU is pursuing the goal of promoting the future viability of highly industrialised and highly innovative locations such as the Lake Constance region by establishing the BIC. The BIC is guided by an interest in the global challenges of progressive digitalisation and in securing ecologically and economically sustainable development in the region. The BIC brings together research institutions, technology companies and other relevant stakeholders in the region so that relevant expertise is systematically and continuously identified, focused on and made available for both regional and supra-regional economic and social benefit. The BIC complements existing formats in the region, which concentrate primarily on the technical side of digital change. We are primarily interested in the consequences of digital change for business models as well as for society and the region.

The work of the BIC is based on the extensive results of a study on the status, challenges and opportunities of digital transformation in the Lake Constance region. The study was presented at a conference hosted by ZU and SAP (Markdorf site) on September 21, 2018. Four main topics were derived from the results of the study, which will be dealt with in innovation circles of the BIC:
Current Innovation Circles
Artificial intelligence is a cross-industry issue that has aroused great interest among companies in the region and is regarded as the most relevant technology for digital change. However, there are very few companies in the Lake Constance region implementing and using AI at present. The consequences of using artificial intelligence for industry and society in the region are still unclear. It is therefore important to work on this topic in a targeted manner, to discuss its implications with companies and to develop scenarios for successful implementation.

Corporate Partner
KPMG AG Wirtschaftsprüfungsgesellschaft
Contact Persons
Sabine Wiesmüller, sabine.wiesmueller@zu.de
Cindy Klotzsche, c.klotzsche@zeppelin-university.net
Upcoming Events
7th of May 2021

Innovation Circle



Digital Sustainability Management 
Several companies are increasingly supporting their CSR and environmental management digitally. They use solutions that, for example, ensure compliance with environmental regulations, manage the evaluation of suppliers' social performance or collect non-financial information for their own reporting. Other examples cited by the companies include carbon-neutral mobility of employees, group-wide virtual coordination on social commitment and digital evaluation of product design in the life cycle concept.

Corporate Partner

SAP SE
Contact Person
Lukas Törner, lukas.toerner@zu.de
Previous Innovation Circles


Kick-off event

Carlo Bevoli, SAP
Alois Flatz, formerly Dow Jones Sustainability Index
1st Innovation Circle: Balancing the Future

Carlo Bevoli & Torsten Graf, SAP
2nd Innovation Circle: Blockchain and the Circular Economy

Christian Polivka, SAP
Ann-Kristin von Flotow, Vaude
3rd Innovation Circle: Tracing in Supply Chains

4th Innovation Circle: Hub Approaches for Sustainability Data

Marco Möhrer, international controller association
Tanja Reilly, Ecovadis
Ralf Coenning, SAP
5th Innovation Circle: Non-financial Internal Control Systems

Armin Hipper, DFGE
Marcus Ehrenberger & Frieder Frasch, KPMG
6th Innovation Circle: Reporting of Sustainability Data

Rainer Bildmayr, SAP
Dr. Janine von Wolfersdorff, Stb.
7th Innovation Circle: Use of Non-financial Indicators

Dr. Daniel Chatterjee, Rolls Royce Power Systems
Wolfgang Bock, SAP 
8th Innovation Circle: Digital and Sustainability Strategy

Ramona Wallner, Zeppelin & Tomas Zelic, Z LAB
Nichola Hutson & Sven Edgren, DNV GL
Upcoming Events
7th of May 2021

Innovation Circle  



Awareness of cybersecurity is growing in the companies around Lake Constance. Companies are dealing with security issues in order to be able to effectively protect customers and their organisation from the abuse of data. Data security is a central task in view of the increasing networking of systems, machines and products. One challenge is the security guarantee for the storage of customer data in the cloud and compliance with data protection regulations for customers and employees. At the same time, many companies are currently investigating the opportunities offered by data analysis and usage in order to develop new business models.

Corporate Partner
KPMG AG Wirtschaftsprüfungsgesellschaft
Contact Persons
Sabine Wiesmüller, sabine.wiesmueller@zu.de
Lilly Schröder, li.schroeder@zeppelin-university.net
Previous Innovation Cirlces

Kick-off event

Dr Christian Bühring, German Armed Forces
Dr Helmut Mahler, Code White GmbH
Bodo Meseke, Ernst & Young GmbH
Prof. Dr Martin Schulz, German Graduate School of Management and Law gGmbH
1st Innovation Circle: Cybersecurity Standards

2nd Innovation Circle: Cybersecurity Tools - Overview, Selection Criteria and Procedure

3rd Innovation Circle: Cybersecurity Crisis Management

Ralph Schröder & Robert Welter, KPMG AG
4th Innovation Circle: Cybersecurity Recovery Management5th Innovation Cirlcle: Cloud Security

Henrik Loeser, IBM
Sven Merk, SAP SE
6th Innovation Circle: Cybersecurity and Artificial Intelligence

Dr. Helmut Mahler & Thomas Fischer, Code White GmbH
7th Innovation Circle: The Corona Pandemic and Topic Identification for the Second Year of Innovation Circles
8th Innovation Circle: Modern IT Security Management

Jan Stölting, KPMG
Moritz Huber, Head of the Central Contact Point Cybercrime of the LKA BaWü
9th Innovation Circle: Cloud Security

Dr. Henrik Loeser, IBM
Jens Griesbach, KPMG
10th Innovation Circle: Cloud Transformation and SecDevOps

Christian Nordlohne (KPMG)
Sven Merk (SAP)
11th Innovation Circle: Third-Party Risk Management

Ralph Schröder, KPMG AG
Jan Stölting, KPMG AG
12th Innovation Circle: Encryption in the Cloud

Henrik Loeser, IBM
Florian Kohlar, KPMG AG
Upcoming Events 
16th of April 2021

Innovation Circle 



Digital Leadership and Knowledge Management

In a volatile, uncertain world characterized by change, it is important for companies to deal with the changes in the world of work. The fundamental question here is how change should be shaped in the companies in order to successfully manage this disruptive process. Due to the implications arising from this disruption, responsible managers in companies in particular are faced with new, extended challenges: They find themselves in a decision-making environment characterized by additional uncertainty and complexity which necessitates constant adaptation to new circumstances and the participation of employees. Therefore, the conference covers the following aspects of Digital Leadership:

1. Digital Strategy: Clear objectives and strategy
2. Digital Culture: Changing the corporate culture
3. Digital Skills: Developing digital competencies
4. Digital Stakeholder Management: Leadership and (self-)organization of network players
Contact Persons
Sabine Wiesmüller, sabine.wiesmueller@zu.de
Christina Schwarz,c.schwarz@zeppelin-university.net

Upcoming Events 
21st of May 2021

Innovation Circle 



16th of July 2021 Innovation Circle
17th of September 2021 Innovation Circle
12th of November 2021 Innovation Circle 
14th of January 2022 Innovation Circle 
11th of March 2022 Innovation Circle
Lifelong Learning & Technology Acceptance
When implementing new technologies, it is a challenge for companies to take their employees with them and train them further. Although the simplification of work processes is noticeable, there is increased demand for technology-related skilled workers. These far-reaching developments mean that companies see a need for education at all levels of the organization. It is therefore of particular relevance to train employees further, to recruit new employees and to promote awareness and participation by means of adapted, less hierarchical leadership in order to create confidence in these innovations.

Corporate Partner
SAP SE

Contact Persons
Sabine Wiesmüller, sabine.wiesmueller@zu.de
Upcoming Events 
The Innovation Circle has been closed