Bachelor in Politics, Administration & International Relations
For Political consultants. Modernizers of Public Administration. Experts on Europe. Process Innovators. Developmental Aid Workers. Privatizers. Public Policy Experts. UN-Employees. Business Administrators. Political Journalists. Research Analyst. Public Relation Managers. Non-profit Managers. Consultants.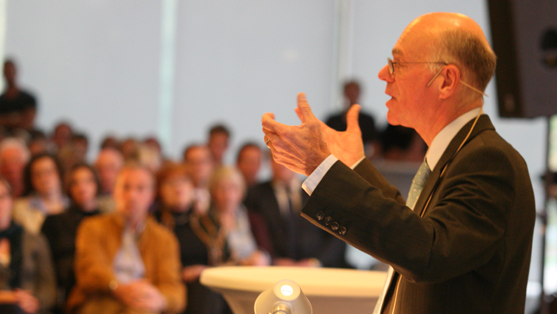 Famous people from politics regularly come to Zeppelin University. A selection of our guests so far.
Why study PAIR?
PAIR is a study program in political and administrative science mainly taught in German. It addresses students who want to analyze political systems in modern societies from a national, international, and European perspective. At the same time - and from the perspective of organizational research and modern management theory - national and international organizations are analyzed, and a wide knowledge of public management in modern states is taught. Thus, the students learn to analyze and solve complex problems of decision-making and governance in the public sector in their political, legal, economic, and social context.

As all other study programs at ZU, PAIR has a strong interdisciplinary orientation which can not only be seen in the so-called Zeppelin Year, the first two semesters, but also in the elective modules from related study programs in later semesters. At the same time the study program provides the chance of a subject-specific specialization that ensures the best possible compatibility for master programs in political and administrative science. 

Important Note: All bachelor programs at Zeppelin University require sound knowledge of German. Although 40 percent of our courses are taught in English, your German knowledge should be at least on the C1 level of the CEFR in order to start a successful study program at ZU. Therefore, we regret that we cannot accept applications written in English.
The following features characterize the Bachelor program in "Politics, Administration & International Relations" in particular:

Three specialisations are available within the study programme
TRACK I: Managing Global Challanges & International Relations

How do international and supranational organisations work? How to control development policy? How is international law justified? How are international policy processes arranged?

TRACK II: Political Behavior & Decision Making

How do political decision making processes work? What are the findings in election research? How do people behave politically?

TRACK III: Public Management & Policy, Regulation & E-Government

How does management in the public sector work? Where is the difference between regulation an delegation? Which new developments exist in E-Government?

Each Semester there will be a course held in Berlin. Here are some examples:
| Political, social and economic inequality
| Actors and logic of political communication
| Philosophy and practice of the social state
| Policy Analysis

Within the study program PAIR almost 40% of the courses are held in English language. Furthermore we do have exchange programs with some outstanding international partner universities like:
SciencesPo, Paris (France)
Maastricht University (Netherlands)
University Twente (Netherlands)
University of Bergen (Norway)
Universidad de los Andes, Bogotà (Colombia)
American University, Washington (USA)
Sun Yat-Sen University, Guangdong (China)
University of California, San Diego (USA)
University of Zurich (Switzerland)
University of California, Berkeley (USA)
University of the Witwatersrand, Johannesburg (South Africa)
Contact for applicants

Massola, Elisa MA
Head of Admissions Office & Selection Procedure

| | |
| --- | --- |
| Phone: | +49 7541 6009-2004 |
| Fax: | +49 7541 6009-3009 |
| Room: | FAB 3 | 0.39 |
Head of Studies and Administration
Behnke, Joachim Prof Dr rer pol
| | |
| --- | --- |
| Phone: | +49 7541 6009-1431 |
| Fax: | +49 7541 6009-1499 |
| Room: | Semi 0.02 |

Bengel, Silke
Assistant

| | |
| --- | --- |
| Phone: | +49 7541 6009-1301 |
| Fax: | +49 7541 6009-1399 |
| Room: | FAB 3 | 1.31 |

Zettl, Christian Dr phil
Executive Program Director PAIR

| | |
| --- | --- |
| Phone: | +49 7541 6009-1405 |
| Fax: | +49 7541 6009-1499 |
| Room: | FAB 3 | 0.71 |