Digital Teaching
The information on this page is intended for the teaching staff at ZU.

The spring of 2020 has taught us that it would be helpful to share some ideas for distance-learning activities. For the Fall 2020 semester, ZU is currently planning to offer limited classroom teaching (i.e. largely classroom-based seminars in compliance with hygiene regulations with the addition of digital courses) – naturally, with the option of switching to fully digital teaching in the event of a sudden increase in confirmed Covid-19 cases. Therefore – in these times of the coronavirus – it seems to make sense to exchange ideas, provide training, etc. on the topic of digital teaching.

We have created this page as an information repository for teachers at ZU and to provide an overview of additional information sources. We make no claims regarding its completeness and we are not an official decision-making body. The content presented here is intended to provide answers to questions that we have encountered in discussions with teachers.
Further information (last updated on July 2.)
General information on the coronavirus – and how ZU is dealing with the pandemic – can be found on the following page https://www.zu.de/universitaet/corona-information.php
Detailed information about examination forms, an overview of coronavirus-related communications on the subject of teaching in recent months, especially from the Vice President of Teaching and Didactics, as well as a collection of FAQ can be found in SystemeOne (internal link).
Tools and features (last updated on September 9)
Stefanie Zeller is the contact for the e-learning services at ZU and is also available for a one-on-one conversation and consultation. Simply send an e-mail to pplktnnzd
Ilias
The ZU uses Ilias as a learning platform, which all students and teachers can access via https://learning.zu.de. This platform is especially important because all tutorials on using Ilias and Big Blue Button are stored here. Ilias can be used as a teaching aid in a number of ways. To name just a few examples, you can save teaching and learning materials, set up a forum to discuss topics and questions or provide materials for group work in a structured way. There are numerous other possible uses.
An overview is available via an example course created in Ilias (internal link in Ilias) or the tutorials (internal link in Ilias).

Big Blue Button (BBB)
Big Blue Button is the video conferencing tool that ZU uses for lectures and meetings. Important: IT recommends using Google Chrome as the web browser for BBB.
For meetings, you can access BBB via https://zu-meetings.de/. More information on how to use it can be found here (internal link in Ilias) under tutorial videos.
Students who want to participate in an online course can access BBB via Ilias.
BBB offers many features and possibilities, such as shared notes which enable students to collaborate on a document, a chat function, and breakout rooms where students can be assigned for group tasks. Here there are helpful introduction videos for the different features.
But you can, of course, use other tools as well. A helpful overview is available here.

Best-practice exchange (last updated on July 2)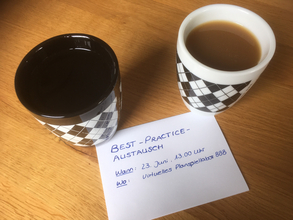 Virtual teacher exchange
Everyone has dealt differently with the switch to distance learning and has explored different strategies and possibilities. Some things have worked surprisingly well, others less so. Do you want to discuss this? If you are interested participating in a digital meeting with colleagues, send an e-mail to ndnmdrtzd. Once a few interested people have expressed an interest, we will arrange a date for a virtual meeting.
Tips and hints (updated on July 4.)
A teaching concept, which was approved by the Teaching Council and distributed by Jan Söffner by e-mail on June 25, presents some didactic opportunities to make course sizes more manageable in the digital space.
In this context, a few basic principles must be observed:

The restructuring of teaching presents an opportunity for innovation in terms of teaching practice. The qualification goals and/or quality standards defined in the module manuals must be maintained.
Contractually agreed contact times (as opposed to self-study times) must be adhered to (however, this contact time must not only be audio-visual, but can also take place in written form (e.g., in the form of a moderated forum discussion)
The stipulated SWS or teaching units must still be observed.
Creative models in terms of didactics or attendance mode (see below) are universally desired, but must be clarified in advance with SPC and/or ProDis.
The following didactic concepts are conceivable and recommended.

Small-group discussion with preparation (Tröndle/Deveraux model): Seminar tasks are set and posted in writing in the online forum, where they are commented on by all participants – moderated by the lecturer. The classroom-based discussion is thus shorter with better preparation.
Humboldt discussion: Students are given only the topic before the discussion. They are responsible for developing a research question and the corresponding research literature by themselves; before the classroom-based discussion, they collect questions and answers and comment on them (moderated by the lecturers).
Oxford tutorial: The lecturer sets a task, the result is entered into an online forum and two students discuss it for 45 minutes each with the supervisor*, with sharp criticism.
Zeppelin tutorial: Courses are transformed into small, supervised research projects for small groups (smaller and non-interdisciplinary Zeppelin projects at two or three-week intervals). The results are discussed with the lecturers in a full session (while the other groups work on their respective projects in stages).
Division of the course participants into two groups: The groups alternate between classroom and online teaching. This should be avoided if possible.