Further Part-time Programs
Impact Education - Education for People and Organizations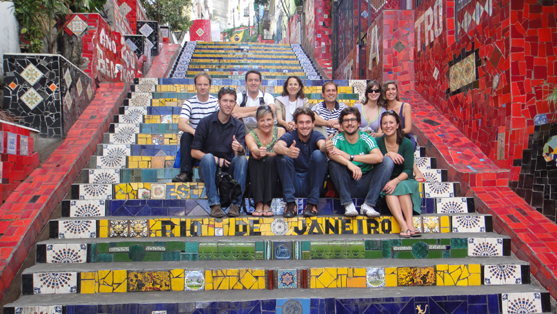 International Expeditions of eMA Fesh-Students.

Can Family Entrepreneurs be Trained?
How do you successfully lead a business into the next generation?
How are values and regional entrenchment preserved in the face of international challenges?
How do small and medium-sized family businesses become talent magnets?
How can the interests of family and business be successfully balanced in the long term?
As Europe's number one part-time master degree for family entrepreneurship, our study program is geared towards successors, partners, and budding executives in family businesses who would like to get to grips with business administration specialized for family enterprises. This is done through a combination of theoretical basics and practical trials between blocks of study.

The Executive Master of Arts for Family Entrepreneurship | eMA FESH at a glance:

Starts: annually in October
Duration: 21 months (part-time)
Arranged into: 12 one-week modules of 5 days, plus independent preparatory and revisory private studies; approximately 4 week break between the modules
Locations: 10 modules in Friedrichshafen and two modules as part of the international learning expedition
Qualification: Master of Arts in Family Entrepreneurship (M.A.) accredited
90 credit points (30 additional credit points available through work experience)

As a private college, Zeppelin University is itself an entrepreneurial university which is aware that, in educating family business members, we have a special responsibility – for the borrowed inheritance of the next generation.

Do you actually still believe that one sector alone can affect the future of mobility?
Do you actually still believe that the energy transition can provide its power needs from one sector alone?
Do you actually still believe that one sector alone can pay for the future of the financial markets?
Do you actually still believe that the use of rhetoric will suffice when managing big assignments?
The biggest tasks facing our society can no longer be solved in a compartmentalized way within one sector. Top managers of the future will also be judged on this, insofar as they incorporate intersectoral logics into their decisions and their leadership behavior. For the multilingualism of the sectors – in a problem solving sense – we have developed a program for (junior) executives in, and between, market, state, and civil society.
The Executive Master in Intersectoral Leadership & Governance | eMA Intersek at a glance:
Part-time course
2 years: 12 in-class modules of 5 days in Berlin, Brussels, Frankfurt, and Friedrichshafen
Qualification: Master of Arts; formally facilitates subsequent postdoctoral studies
State recognized
Number of attendees: 15, up to a maximum of 25
Tuition fees: €29,960.00
Scholarships available, particularly for players within civil society
How do we attract and hold onto customers in a networked and digitalized world?
What are our customers worth, and what is going on in their heads?
How do we secure the best purchasing conditions for ourselves?
What IT do we need, and what don't we need?
Budding commercial executives are confronted with an increasing number of challenges: the customer's desire for a shopping experience; the necessity of the synchronization of static and digital retail space; or the problems of consumer research among increasingly multi-optional consumers in fragmented markets – to name but a few. Since April 2013, following many requests from large German commercial enterprises, we offer a new, fully-accredited, part-time master degree on the theme of commercial management – the "Executive Master of Retailing (eMA R)". The degree course was developed co-operatively, namely through mutual development with Cologne's EHI Retail Institute, as well as a number of executives from renowned commercial enterprises.

Contact

Mietzner, Mark Prof Dr
Chair for Banking and Finance | Dean ZU Executive Education

| | |
| --- | --- |
| Phone: | +49 7541 6009-1232 |
| Fax: | +49 7541 6009-1299 |
| Room: | Semi 1.04 |