Master in Communication, Culture & Management
Communication, Culture & Management | CCM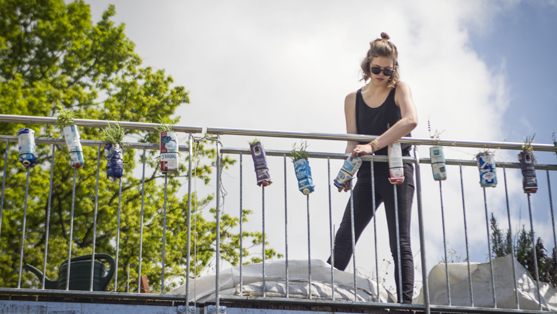 Selected projects from ZU students of Communication & Cultural Management

This is a Master's degree for philosophers, dancers, artists, sociologists and musicians, but also for students of art history, media studies, and cultural studies, as well as those who seek a sound theoretical understanding of art, communications, aesthetics, the media and society. Studying for the Master's degree in 'Communication and Cultural Management' (CCM) means reading thinkers such as Habermas, Luhmann, Illouz, Rancière and McLuhan. It means undertaking substantial research, including empirical studies, as well as organizing cultural events with fellow students. Studying CCM means preparing oneself, both in terms of theory and practice, for today's challenges as a decision-maker within the field of cultural management or communications. Students learn how to look at societal issues from a multidisciplinary perspective and how to make use of their creativity in real-life projects. And all this on the shores of the beautiful Lake Constance.
Combining Culture & Communication with Management Skills
The Master's in CCM is a 2-year full-time study program focused on research and offering a wide range of modules from cultural and communication studies. In addition, students will also be required to take courses in economics, management, public administration and psychology. In offering both a communications and a cultural management track, the program seeks to prepare students for managerial work in the rapidly changing environments of the media and the art world.
The study program allows for both a theoretical and project-based learning culture. Students are thus encouraged to further both their academic skills as well as their conceptual and creative capacities. A rigorous analysis of the theories within communications and cultural studies will contribute to a deep understanding of the practices, institutions and distribution channels that will shape the future of advanced societies.

Content of the Program and offered Projects
A core requirement of the curriculum is the use of research methods spanning both the humanities and the social sciences. A dialogue-based seminar form allows students to develop their intellectual and communicative skills by putting these methods to the test. Beyond the classroom, students receive first-hand knowledge participating actively in the various projects offered at the university. The artsprogram, the media lab, the campus radio station Welle 20, the Filmwerk and student-run festivals such Seekult and Lange Nacht der Musik all offer the perfect setting for hands-on experience in how to organize events in various formats. Within the Cultural Management track, a special consideration is given to innovative formats within the arts. The Communication and Media track allows students to analyse communication processes within a wider political and economic context. Students will thereby acquire a sound understanding of the various relationships between audience research, the psychology of communication and the role of communication as the bedrock of culture.

Future leaders in the field of culture and communication also need management and strategic competence in order to prepare for complex decision-making processes in the context of culture, society and the media. For this reason, the program includes modules in management and leadership.

Language Requirements
Although a good number of courses are offered in English at ZU, students will not be in a position to complete a degree program in English. Knowledge of English is preferred; knowledge of German is an absolute necessity. ZU requires that all degree-seeking applicants demonstrate a minimum of intermediate-level German skills.
Contact

Massola, Elisa MA
Head of Admissions Office & Selection Procedure

| | |
| --- | --- |
| Phone: | +49 7541 6009-2004 |
| Fax: | +49 7541 6009-3009 |
| Room: | FAB 3 | 0.39 |
Head of Studies and Administration

Perrot-Minot, Claire MA
Assistant to te Program Board Communication, Culture & Management | Assistant Simulation Games Lab | Project manager Center for Political Communication
Center for Political Communication
| | |
| --- | --- |
| Phone: | 07541 6009-1300 |
| Room: | FAB 3 | 2.61 |

Pietsch, Lutz-Henning Dr phil
Executive Program Director CCM

| | |
| --- | --- |
| Phone: | +49 7541 6009-1305 |
| Fax: | +49 7541 6009-1699 |
| Room: | FAB 3 | 0.67 |