Studentische Projekte
Wirtschaft & Entrepreneurship
Entrepreneurs Club
Mit dem Entrepreneurs Club ermöglichen wir Interessierten unternehmerische Denkweisen auf experimentelle Art und Weise zu erkunden, Entrepreneurship aktiv zu erleben und sich dabei selbst weiterzuentwickeln. Ziel ist eine Sensibilisierung für Entrepreneurship und das Erlernen von verschiedenen Fähigkeiten durch eine unmittelbare Anwendung.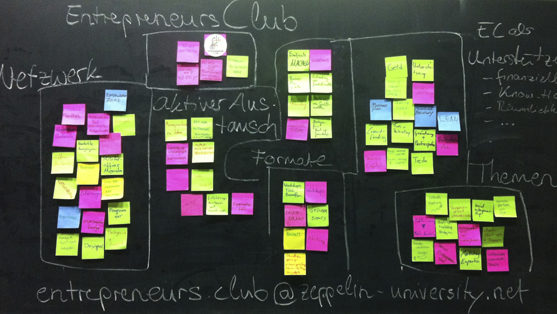 "Entrepreneurs are people who have these ideas and the passions or see these needs in the world and we decide to stand up and do it. Every problem that's out there, somebody has the idea for." Cameron Herold

Zu unserer Speaker Series laden wir interessante Persönlichkeiten ein, die ihre Geschichte erzählen und von denen wir lernen können. In der Vergangenheit waren das zum Beispiel Karen Heumann (Jung von Matt), Christian Leybold (eVenture), Jonathan Tekluu (Airbnb und springstar), Martin Elwert (Coffee Circle), Thomas Herzog (Innovestment) und Dominik Mühl (Capnamic Ventures).
Information und Inspiration im großen Stil bekommen wir bei Konferenzen. Deshalb organisieren wir Fahrten zum IdeaLab! und SensAbility, dem Entrepreneurship Summit, Pioneers Festival und anderen.
Genug geredet, jetzt wird gemacht – und zwar in unseren Workshops. In Teams werden Ideen entwickelt und auf dem Weg bis zur Umsetzung wird relevantes Wissen vermittelt. Coaches begleiten die Teams bis zur finalen Präsentation.
Ganz gleich wie viel Erfahrung jemand mitbringt – wir haben für jeden ein passendes Angebot, denn wir glauben an Ideen.
Kontakt
| Lucie Scupin | Mathis Stolz
entrepreneurs.club@zeppelin-university.net
Homepage
Entrepreneurs Club auf Facebook