Advisory Board
The Scientific Advisory Board of Zeppelin University is comprised of top-ranking international researchers from outstanding universities across the globe.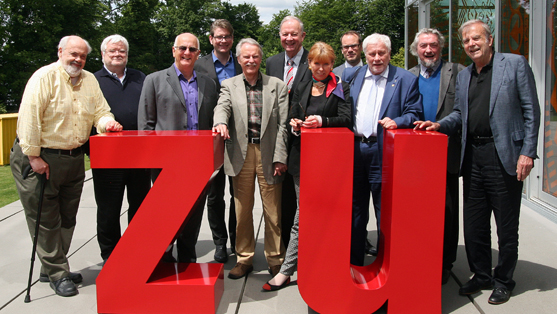 The Scientific Advisory Board with Chairman of the Board Prof Dr Friedrich Schneider (3rd from right) and Vice President of Research Prof Dr Alfred Kieser (far right)
It exercises an advisory role at ZU, particularly regarding the superior structural development of research and the development of young scientists.
Founded in 2010, the board maintains wide-ranging contacts, linking ZU even more closely with the international academic community.
In addition to this, collaboration exists in the following spheres:
Mutually developed and adapted research themes
International exchange of both scientists and students
Members of the Scientific Advisory Board
Bill Ashcroft Prof PhD | University of New South Wales
Wolfgang Eßbach Prof Dr | University of Freiburg
Bruno S Frey Prof Dr Dr hc mult | University of Warwick
Steve Fuller Prof PhD DLitt FRSA | University of Warwick
Hans Ulrich Gumbrecht Prof Dr Dr hc mult | Stanford University
Heribert Meffert Prof Dr Dr hc mult | University of Münster
Margit Osterloh Prof Dr Dr hc | University of Zürich | University of Warwick
B Guy Peters Prof PhD DHT hc dphil hc | University of Pittsburgh
Friedrich Schneider Prof Dr Dr hc mult | University of Linz
Nico Stehr Prof PhD FRSC | Zeppelin University