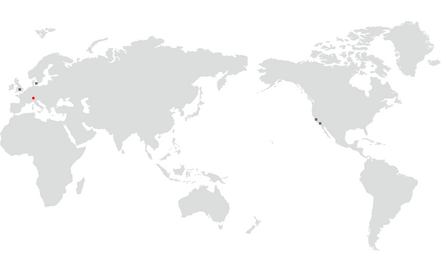 As part of the internationalization strategy of Zeppelin University, student research will be expanded and promoted beyond national borders.

There are two objectives: one goal is to offer students at Zeppelin University the opportunity to base their research projects at partner universities or other institutions in foreign countries; the second goal is to increase the number of international students undertaking research at Zeppelin University.


Our international partner universities for student research
UC San Diego
Goldsmiths University of London
Copenhagen Business School
University of Pretoria

Visiting Student Research Program
In order to support international students to do a research project at Zeppelin University, we designed a Visiting Student Research Program. This program includes scholarships for travel and conference costs, academic supervision, advisory service for accommodation, visa, insurance, etc. as well as language courses and cultural activities. The program has been starting in the fall term 2019 and aims to contribute to a fruitful international exchange in the field of student research.
For further information, please click here.

International Student Research Award
As part of the project, Zeppelin University awards prizes for international student research in various categories. Students who have done a research work with an international topic and/or have been abroad to do their research can apply for this award.

Some impressions

As part of the workshop "Community in Crisis? Political Identification in Europe" international students were invited to present their research papers in a poster session. We were very happy to welcome students from Lisbon and Saint Petersburg to this interesting workshop taking place in October 2018.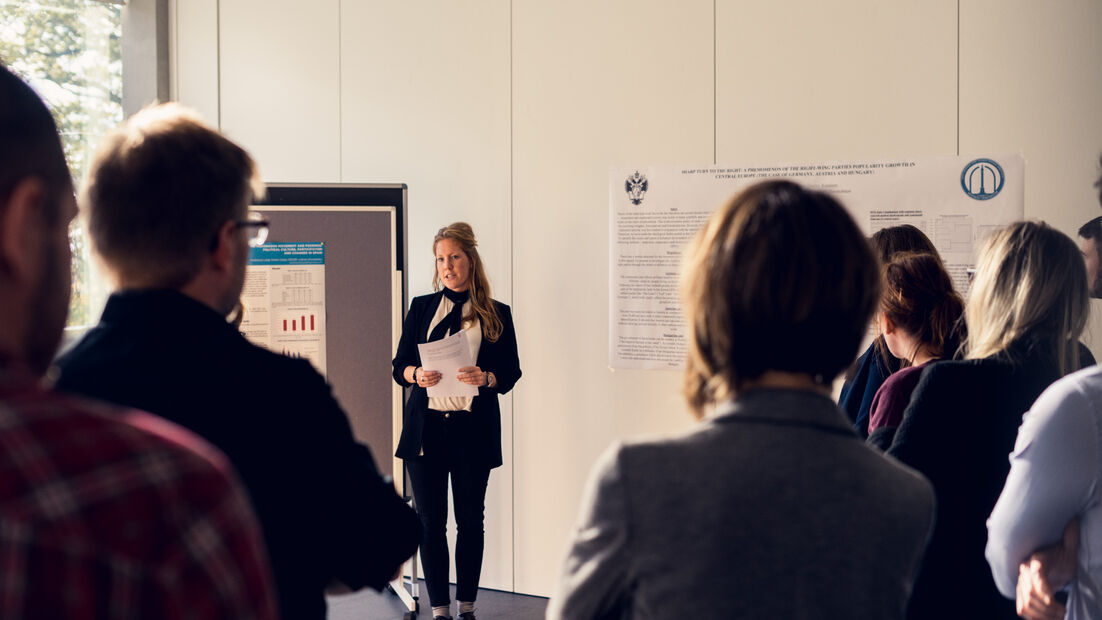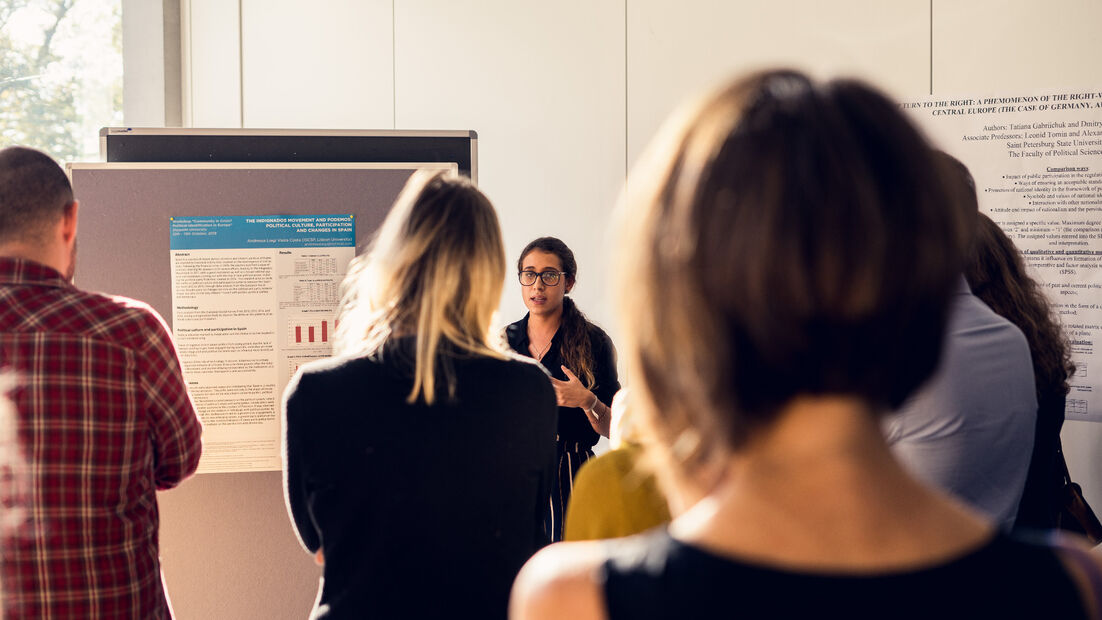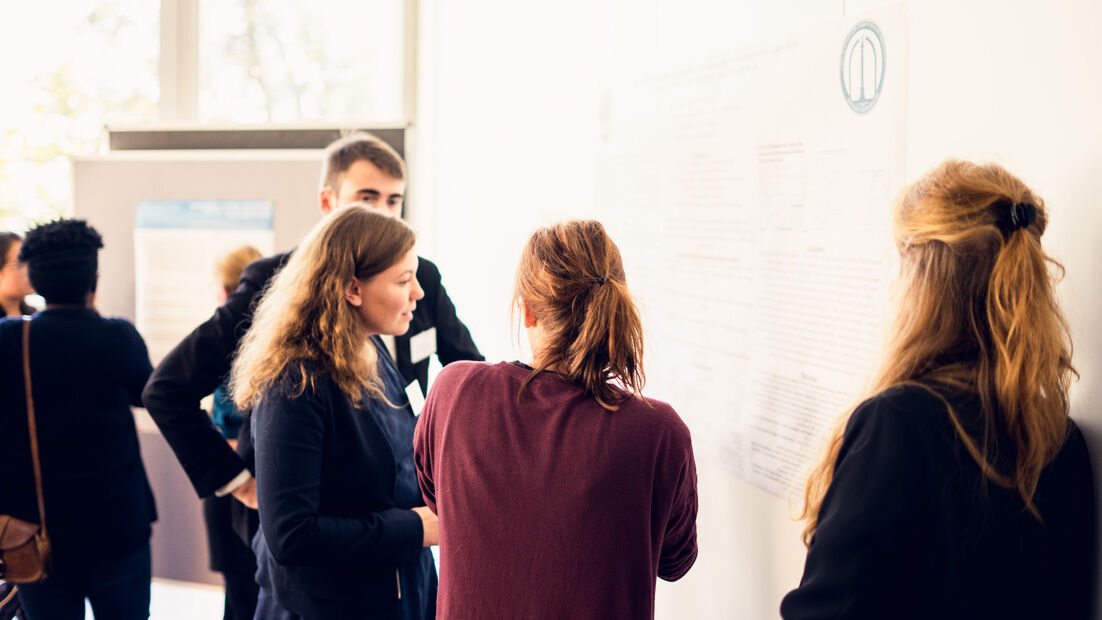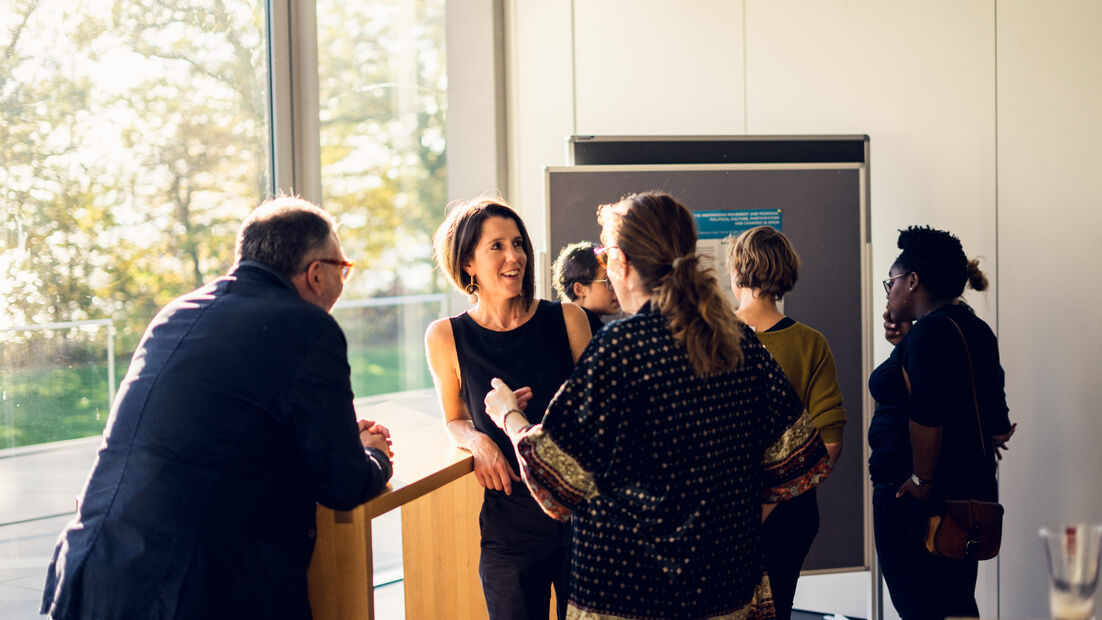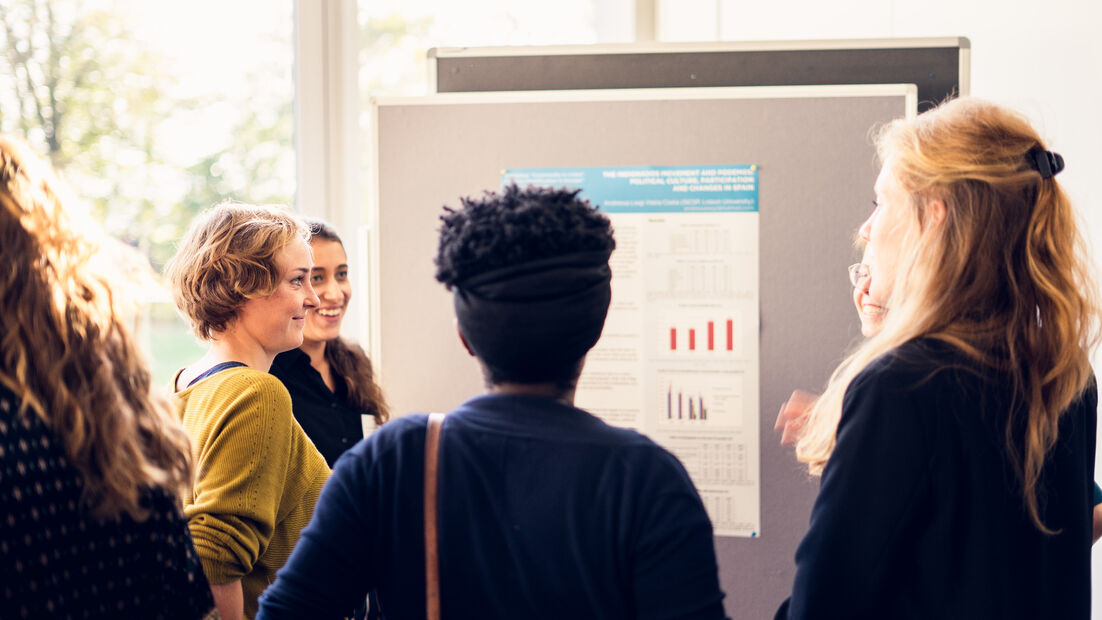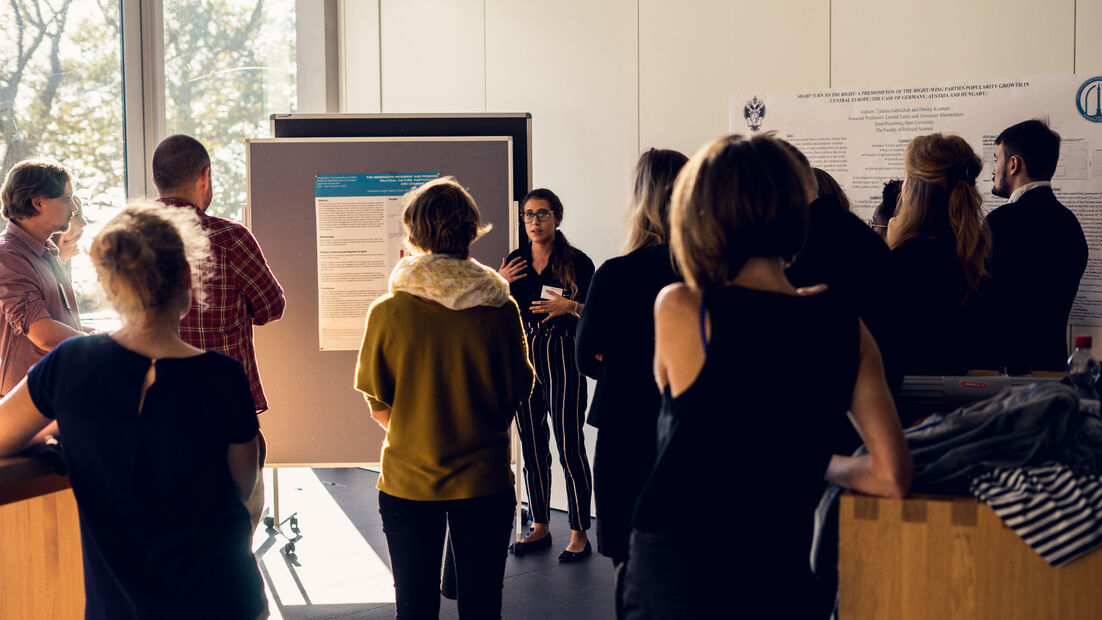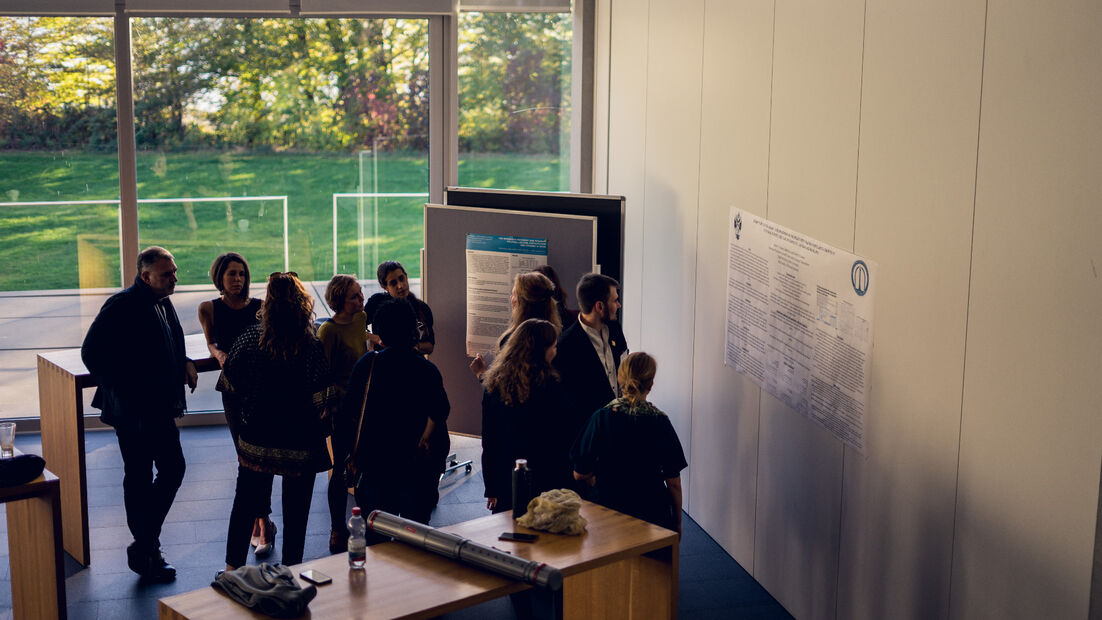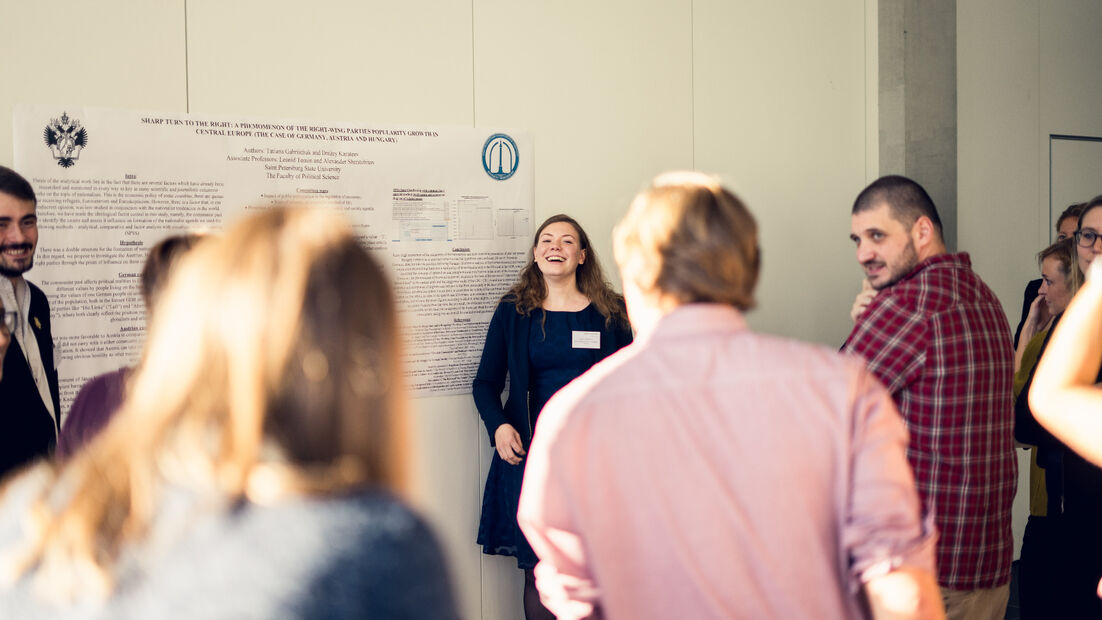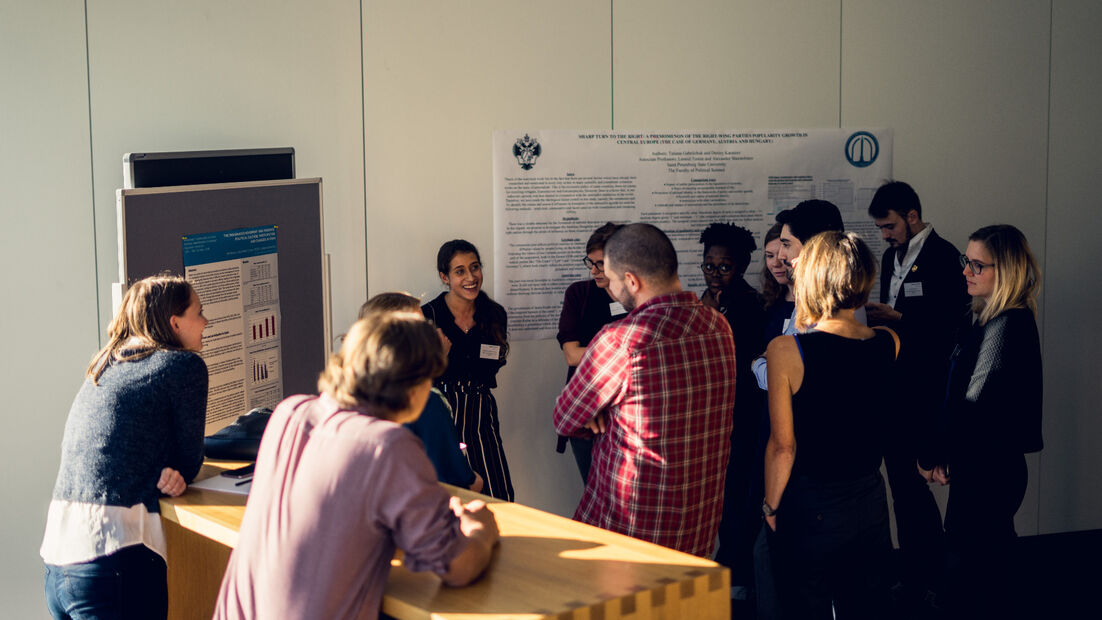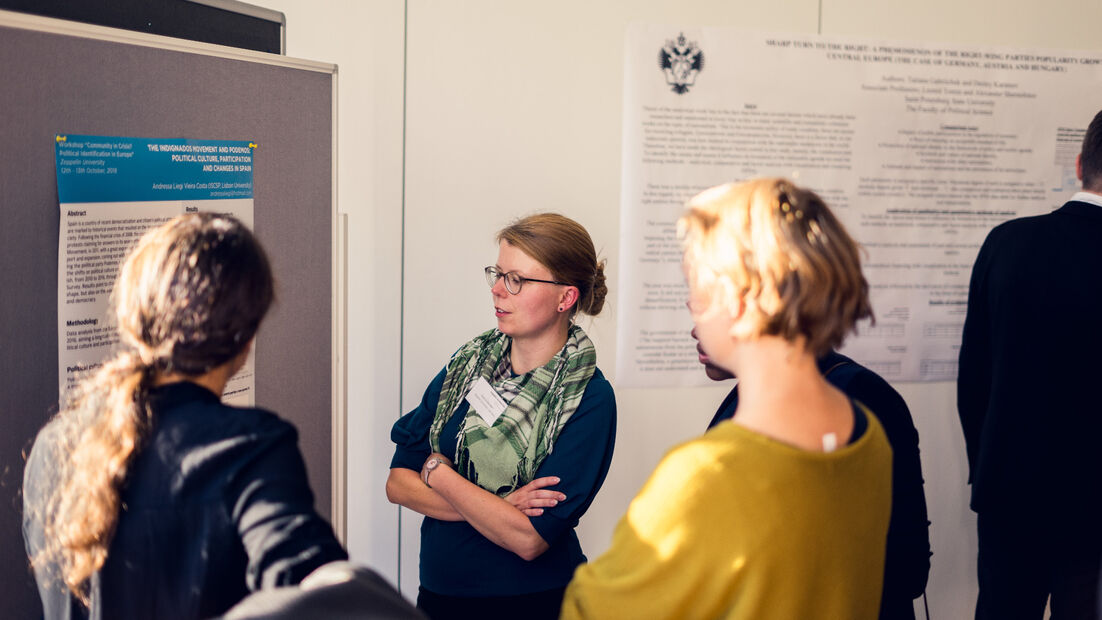 What our fellows say:
(1) Tatiana und Dmitry (Russia): "Our work, partly devoted to German social problems, became admitted in Zeppelin University Workshop 'Community in Crisis? Political Identification in Europe'. We are so happy to say thank you to all, who hosted us at beautiful Friedrichshafen [...]. It was our first experience of participating in high level events like this. Therefore, it is very important for us to get new emotions, new insights and new thinking related to the scientific community."

(2) Andressa Costa (Portugal): "The MWK-travel grant made it possible for me to present my research, as well as to participate in really interesting discussions and get in contact with the work of other international academics. I am very grateful for the opportunity, it was a great workshop!"

Our international mobility programs in the field of student research receive funding from the Ministry for Science, Research and Arts of the State of Baden-Württemberg as well as the Gips-Schüle Foundation.
The ZU accepts its global responsibility. This applies to research topics that address the global challenges of the 21st century and to active support of research projects conducted in countries abroad.
From the ZU Mission Statement for Teaching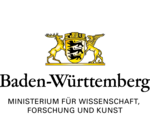 Research-based learning at Zeppelin University is an important element of the teaching-learning culture that is oriented towards individualisation and an effective response to the didactic challenge of a heterogeneous study body. The research-based learning format is characterised by open teaching-learning arrangements, the scope for varying approaches, ideas, problem descriptions and solution approaches by students and the ability to integrate these aspects.

ZU has successfully established research-based learning in its Bachelor's degree programs using prominent formats, specifically the Zeppelin-Project and the Humboldt-Year; now research-based formats are also being more firmly rooted in the Master programs for the long-term.

Therefore, special measures are implemented to support students in the research process and to make their research results visible.

Input-Workshops
Various workshops are offered for graduates in order to convey specific expert knowledge.

Spring 2019

Workshop with Prof. Peschl from the University of Vienna on 'Knowledge Creation'
Participatory and open-ended workshop with Moritz Kempf on 'Research for Graduates'

Fall 2019

Advanced Methods Workshop on academic writing 'Forschung schreiben, schreibend forschen'
Excursion to Vienna with Prof. van den Berg, Fall 2018

Excursions

The project also supports excursions that are directly linked to research and dedicated to strengthen research-based learning.

For example, a joint excursion to the "Vienna Art Week" took place within the master course "Project & Field Studies in Culture & Media", which served to explore the range of cultural initiatives and institutions.
The event was designed as a guided ethnographic instant field exploration. It was essentially about meeting different actors and capturing the heterogeneity in the cultural field. As the students subsequently investigated on specific cultural institutions as part of their individual field studies, the excursion should train them how to obtain an overview of the cultural program of a city, how to systematically take notes, document, debrief, and reflect together with the group.

The concept behind the Methodology Lab at the ZU
In the framework of the Methodology Lab, the diverse methodological competencies of the researchers at Zeppelin University are combined to be able to offer a systematic advisory service for students and their individual research questions. Consultation with teaching staff is enhanced with the "peer tutoring" format. The Methodology Lab services are available to all students.

How can the Methodology Lab help?
Do you have a project title, a research topic or research project but do not know which methods, competences or practical techniques you can use to answer your research questions? Are you unsure what type of data or artefacts you should use? Getting nowhere in analysing your data? Not sure how to interpret the results?

Then the Methodology Lab is just the right place to head. The Methodology Lab is geared towards students who are working on their own research projects and who have questions about methodologies. The goal of the Methodology Lab is not to replace the supervision for the research work; instead, it should be seen as a complement to it.

How can students make use of the services at the Methodology Lab?
Following an initial consultation and depending on their research question, project design and the specific methodological advice being sought, students are referred to the teaching staff who are best able to assume the personal consultation based on their methodological expertise.

In order to be able to offer specific assistance already at the initial consultation, it is important that we are able to quickly understand your research project and your question. Therefore, please complete the project description form (see download file below) and bring this with you to the consultation hour; this will provide basic clarification of several points right from the start of the meeting.
Dates for the consultation hour Tue-Wed by appointment

Software and hardware
For more information on using certain software programs and/or technical equipment for student research, please click here.