2020-04-24
International Working Meeting "Cultural Policy Transformations: The Rise of Illiberalism"
The international working meeting "Cultural Policy Transformations: The Rise of Illiberalism", on 5 and 6 March 2020 at Zeppelin University, marked the beginning of an international research project. The meeting addressed issues of contemporary international cultural policy, especially the increased presence of illiberal, populist governments, parties and movements. Together with researchers from Austria, Denmark, Germany, Israel, Norway, Poland, Serbia, Spain, Turkey, and the USA, national situations were examined and comparatively discussed.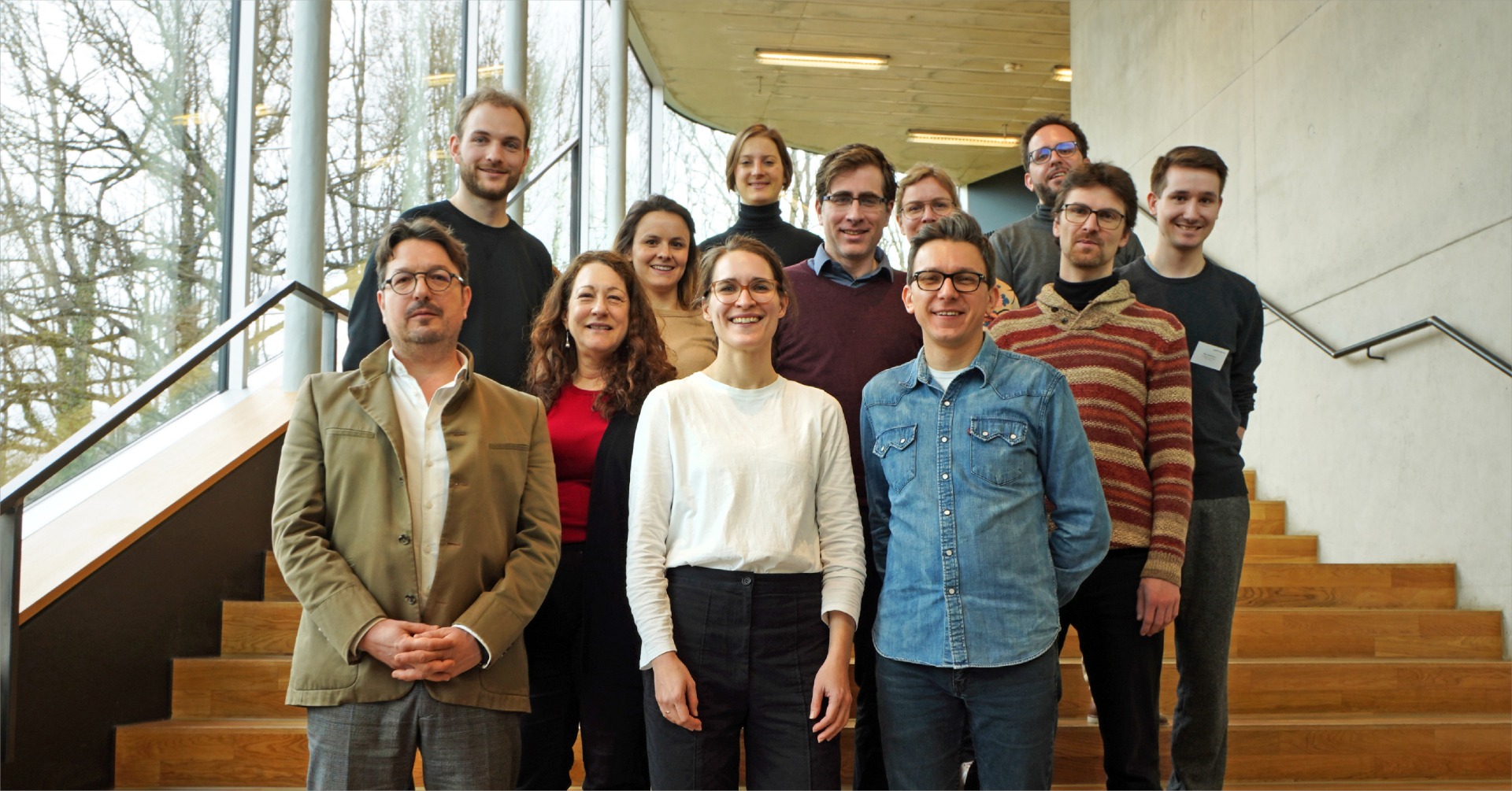 ACPT cluster team and international guests
The discussions showed that more research is required to develop a more differentiated understanding of liberalism and illiberalism, their respective characteristics, conditions and objectives, as well as the explicit and implicit cultural policy measures associated with them. Traditional understandings of state cultural policy—with legal frameworks and financial grants that tend to support the autonomy of the arts (in liberal, welfare-state, identity-political variants, with focus on the state, market and/or civil society)—are increasingly controversial or are re-forming themselves as hybrid concepts. Similarly, the reactions of civil society vary between apathy, cooperation, opposition, pragmatism and activism. What consequences does this have specifically for the relationship between cultural and democratic policy and governance?

A second international working meeting with additional guests is planned for autumn 2020 at Zeppelin University.

Tal Feder, post-doctoral fellow of the Israel Science Foundation (ISF), discussed in his lecture, using the example of Israel's "Loyalty in Culture" law, how an illiberal logic is increasingly shaping the justifications of state intervention in the arts and cultural sector. The right to freedom of expression is thereby subordinated to loyalty to the state. According to this logic, those who receive state funding must place themselves in the service of state policy and take on didactic tasks. Under this premise, critical art is condemned as "incitement" of the public.


Mariano Martín Zamorano, researcher at the Centre for the Study of Culture, Politics and Society (CECUPS), University of Barcelona, noted a lack of research on the cultural policy dimensions of right-wing populist and illiberal governments. This is in contrast to the political attention of these governments to the arts and culture. By means of a comparative analysis, referring to Poland, Brazil and Hungary, he developed a conceptual framework on the characteristics of so-called "hybrid illiberal regimes": Firstly, an exclusive understanding of culture. Secondly, the implementation of concrete legal, state and economic mechanisms to enforce it, including indirect censorship, stigmatisation of social groups or persecution of artists. Thirdly, the establishment of inequality strategies to justify authoritarian cultural policy measures in the sense of the "people" against the "elite".


Banu Karaca, fellow of the Volkswagen Foundation at the Forum Transregional Studies, examined the situation in Turkey under the question of how the rise of authoritarian and right-wing politics is linked to a targeted attack on collective cultural memory. Since the failed coup attempt of July 2016, not only artists and art institutions in Turkey have increasingly become the target of legal harassment and persecution. Archives are also being confiscated and monuments and statues dismantled for the state-directed manipulation of memory regimes. Nevertheless, the attempt to take over state "artistic hegemony" is seen as failed—the independent arts and cultural sector is said to be resilient to these measures.


Tobias Harding, professor at the University of Southeast Norway, discussed developments in Northern European cultural policy using Sweden as an example. Here, cultural policy has traditionally been closely linked to a modern vision of an enlightened, educated society; guaranteed by the welfare state and supported by a high degree of trust in the government and in organised civil society. This societal consensus is increasingly controversial, as can be observed for example, in fierce discussions on state support for immigrant associations, especially Muslim organisations. Both politically left-wing and right-wing conservative parties argue that the autonomy of the arts and cultural sector is threatened—either by the free market or by state regulation, depending on the perspective. The right-wing populist Sweden Democrats, whose cultural policy stands for exclusive support of a Swedish cultural identity, benefit most from this situation.


Višnja Kisić and Goran Tomka from the UNESCO Chair in Cultural Policy and Management at the University of Art Belgrade questioned the principle based on a normative understanding that any investment in culture is a "good" expense. Using the Serbian situation as an example, they showed how the independent arts and cultural sector unwillingly became a supporter of the "National Cultural Strategy". In an increasingly right-wing populist political climate, public investment in arts and culture increased, accompanied by new buildings of museums and event venues and a successful campaign for Novi Sad as European Capital of Culture. The demand by independent arts and culture initiatives to allocate 1% of the public budget to the sector is in line with the National Cultural Strategy. However, it also celebrates a heroic, masculine, nationalist culture. Kisić and Tomka therefore argued that a much more critical attitude towards public cultural spending and a repoliticisation of the discourse is needed.


Aron Weigl, director of the research institute EDUCULT in Vienna, referred in his lecture to right-wing populist cultural policy in Austria between 2000-2006 and 2017-2019, stressing that it is necessary to distinguish between different forms of illiberal cultural policy. Thus, the argument of a free market was often used to argue against funding for minority cultures, cultural diversity and cultural elites. Ignorance and publicly expressed disinterest, coupled with redistribution of budgets, are also often used as implicit cultural policy strategies. Areas such as media, education and migration policy, not explicit cultural policy, are decisive for state cultural policy. Weigl emphasised that, favoured by a federalist system, cultural centres like Vienna in particular can position themselves as cultural opposition.


Claudia Steigerwald, post-doc at Zeppelin University, dealt with cultural education as an instrument of cultural policy in Germany. She compared the narratives of the socio-cultural roots of cultural education with the narratives used by the right-wing populist party "Alternative for Germany" (AfD). She initially noted a return of bourgeois-conservative concepts and market-oriented creativity imperatives, which had ensured growing attention to the topic of cultural education across the party spectrum, accompanied by increasing funding. The AfD is now using this attention for a reinterpretation—on the one hand, to criticise what they regard as an increasing cultural "disorientation" of young people due to rampant liberalism, and on the other hand, to refer to the danger of alleged media "manipulation". In doing so, they refer, among other references, to the media criticism of Adorno and Horkheimer.


Nanna Kann-Rasmussen, Associate Professor at the University of Copenhagen, reflected on the activist potential of libraries, museums and archives. The (self-)perception of these institutions is changing from a neutral position to an active or activist role. She described two types of activism: Firstly, enabling activism by making spaces or public platforms available to civil society groups in museums, libraries or archives. Secondly, becoming activist as a museum, library or archive—to point out grievances, especially on a discursive level. According to Kann-Rasmussen, this increasingly political role of museums, libraries and archives is not only a reaction to growing illiberalism, but also to other social challenges such as climate change or dealing with refugees.


Marcin Poprawski, researcher and lecturer at the University of Poznan, used the situation in Poland to illustrate the profound transformations in cultural institutions due to political interventions in the areas of funding, personnel and programme content. Similar to Serbia, the increasing right-wing conservative political trend is linked to an expansion and investment in cultural infrastructure. However, this is accompanied by a reinterpretation of historical events to reconstruct national history. Corrupt structures also manifest themselves. People who point out problems or are perceived as political opponents are dismissed or threatened.


Anke Schad-Spindler, post-doctoral researcher at the International Research Cluster on the Transformation of Cultural Production in the Context of Social Change (ACPT) at Zeppelin University, analysed in her lecture the possibilities and limitations of civil society bottom-up approaches in post-socialist cities. These are characterised by a rapid privatisation of public space, increasing social inequality and political division. Dialogue- and participation-oriented initiatives for urban development are therefore on the one hand very relevant, on the other hand very difficult to implement. One of the dilemmas here is that project-financed initiatives are confronted with time limits, high pressure of expectations and great administrative effort. At the same time, they can often only operate on a small scale and require consistency in order to build trust and to plan, implement and maintain changes together with the affected citizens.


Constance DeVereaux, Associate Professor and Director of the Master's Program in Arts Leadership and Cultural Management at the University of Connecticut, reflected on the concept and potentials of cultural hybridity versus the cultural essentialism that shapes contemporary political rhetoric. Cultural essentialism, she said, not only takes the form of nationalistic, purist imprints, but also shapes global strategies that promote cultural homogeneity through commercially oriented tourism and cultural industries. In contrast, the concept of cultural hybridity needs to be elaborated—does it promote artistic expression and creativity or is it a means of cultural appropriation and thus of diluting cultural differences? Have we so far failed to recognise the importance of cultural hybridity, especially in urban environments, and if so, what role should the concept play in future considerations?