Bachelor of Arts in Politics, Administration & International Relations | PAIR
Profile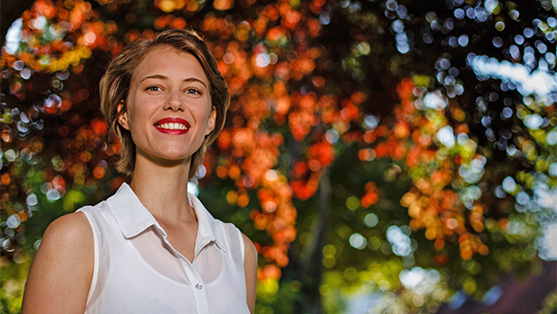 "In particular it was ZU's interdisciplinary approach and the combination of politics and administration that won me over, because I'm someone who doesn't want to be limited to one thing. I want to study several things at the same time."
Tabea Zimmermann, BA PAIR

Without doubt some of today's biggest problems include climate change, migration, international security, growing inequality between and within states, the erosion of democratic structures, the increase in populist ideals, and the impact of digitalization. All of these problems are of a genuine political nature and and most of them can only be solved through international cooperation. Other problems such as the fight against global pandemics like the coronavirus, and more generally the guarantee of minimum worldwide standards of healthcare, education and material well-being are intrinsically of concern to the entire planet. These problems, both in content and in structure, are symptomatic of a fundamental change that politics, society and administration have experienced over the last few decades.

Research focus & teaching content
This change and its associated challenges are the focus of the research and the teaching content of the Politics, Administration & International Relations study program at Zeppelin University. Because all measures taken by governments to tackle the aforementioned challenges and problems require legitimate political decision-making processes, legal frameworks and the associated administration.

Our study program prepares students for today's complex issues in politics, administration and society, and teaches them the skills needed to analyze problems and to prepare and implement solutions. These competencies are taught through a theoretical and practical curriculum with a strong international and comparative orientation. This enables students to investigate socially relevant problems in a global context and to approach them using innovative scientific methods.

The outstanding quality of the study program is evidenced by its top placing in numerous rankings. The course has a satisfaction rating of around 80% among students – a figure way above the German average.

Course facts and information
Qualification: Bachelor of Arts (B.A.)
Standard period of study: 8 semesters (= 4 years)
ECTS points: 240
Course language: German and English
Language skills: Good knowledge of English is necessary
Course begins: Spring (January) and fall semester (September)
Faculty: Faculty of Political & Social Sciences
Fees per semester: 4,350 euro
Interested? Please note the language requirements
Although quite a few courses at ZU are offered in English, it is not possible to complete the  degree program Politics, Administration & International Relations entirely in English. Language skills in English are preferred, while German is an absolute necessity. ZU requires very good proficiency in German language on C1 level for all degree-seeking applicants.
Applicant Advisory & Admissions
Team of Applicant Advisory & Admissions

Phone: +49 7541 6009-2000
Write an Email

Do you have any questions about the study programs and the application process? Then please contact our applicant advisory service.
What makes the B.A. in PAIR so special?
The PAIR bachelor's program at Zeppelin University is diverse. As well as teaching you the essentials of Politics, Administration & International Relations, it, allows you to systematically complement your degree program with content from Legal Science, Communications and Psychology. The groundwork for this interdisciplinary approach is already laid in the "Zeppelin Year" at the start of the course. In the "Humboldt Year", students have the choice of doing either an academically supervised research project or advanced studies in a specific area of the study program.

Theoretical and methodological training is a key element of the PAIR program. You have the opportunity to develop your research and methodological skills on your own terms. The emphasis is on evaluating the suitability of various research designs and methods for a variety of issues and the practical applicability of different research approaches.

As well as this, later on in your studies you are given the option to take a minor in Corporate Management & Economics or in Communications, Culture & Management. Or maybe you would like to hold your own seminar? Our StudentStudies option allows you to focus your studies on the topics and issues that are important to you.

What makes the B.A. in Politics, Administration & International Relations different:

Three tracks are available:

TRACK I: International Relations
How do international and supranational organizations work?
How do capital and financial markets operate in globalized times?
Can globalization be controlled by means of cooperation and multilateral treaties?
How is European and international law set up?
What causes conflicts on an international level and how can they be resolved?

TRACK II: Political Behavior & Institutions
What needs to be considered when making strategic decisions?
How do political institutions and decision-making processes work on a national and European level?
How do humans develop values and opinions and how do they participate as citizens in the political process?
What are the psychological aspects involved in human decision-making?

TRACK III: Public Management, Public Policy & Digitalization
How can public and political organizations be directed and managed?
How does human resource management influence the behavior of people in organizations?
How do educational, digitalization, integration and security policies differ by international comparison?
In the age of digitalization, how can modern information and communication technologies be employed by the state and in the economy?
Each semester a course for up to 30 students is held in the capital city. Some examples from previous semesters:

Political, social and economic inequality
Players and logic of political communication
Philosophy and practices of the welfare state
Policy field analysis
Corruption in Germany (StudentStudy)
In the PAIR program, around 40% of seminars are held in English. As well as this, we can offer students a selection of outstanding partner universities around the world. Here is a small sample:
SciencesPo, Paris (France)

Maastricht University (Netherlands)


University Twente (Netherlands)

University of Bergen (Norway)

Universidad de los Andes, Bogotà (Colombia)

American University, Washington (USA)


Sun Yat-Sen University, Guangdong (China)

University of California, San Diego (USA)


University of Zurich (SWISS)

University of California, Berkeley (USA)

University of the Witwatersrand, Johannesburg (South Africa)

Team of Applicant Advisory & Admissions

Dierolf Nadine, Gröner Alissa, Wallace Birgit
Team Applicant Advisory & Admissions

| | |
| --- | --- |
| Phone: | +49 7541 6009-2000 |
| Room: | ZF Campus |
Executive and Academic Program Director
Behnke, Joachim
Prof Dr rer pol
Academic Program Director Politics, Administration & International Relations | PAIR

| | |
| --- | --- |
| Phone: | +49 7541 6009-1431 |
| Fax: | +49 7541 6009-1499 |
| Room: | Semi 0.02 |
Publications

Executive Program Director Politics, Administration & International Relations | PAIR

| | |
| --- | --- |
| Phone: | +49 7541 6009-1405 |
| Room: | FAB 3 | 0.71 |
Central Lecturer Administration | Seminars and Rooms
* The B.A. in PAIR was called "Public Management & Governance (PMG)" until the fall semester of 2013.